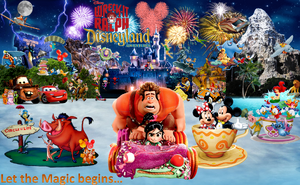 Wreck-It Ralph's Disneyland Adventure is a spectacular movie of both games from Xbox 360 and a sequal movie from Wreck-It Ralph. It will be aired in September 3, 2013.
Plot
In Litwak's Arcade, there was a new game with TV screen that can hook up with Xbox 360 featuring their favorite game, "Disneyland Adventure" Kinect. When the arcade is close, Ralph and Felix from Fix-It Felix Jr., Calhoun from Heroes Duty, and Vanellope and the racers from "Sugar Rush had decided to go on a vacation trip when the game got plugged in.
They entered the game on a monorail and headed straight to Disneyland Resort, "The Happiest Place On Earth". They were welcome by their favorite characters such as Mickey Mouse and his friends.
coming soon.....
Gallery
Trivia
Just like the same name from Disney On Ice; Disneyland Adventure.
In the game they get to go on a secret attraction if the arcade was close.
Video Game characters will be appeared again as cameos.
The park guests and cast members will be appeared during the film including the avatars.
Ad blocker interference detected!
Wikia is a free-to-use site that makes money from advertising. We have a modified experience for viewers using ad blockers

Wikia is not accessible if you've made further modifications. Remove the custom ad blocker rule(s) and the page will load as expected.