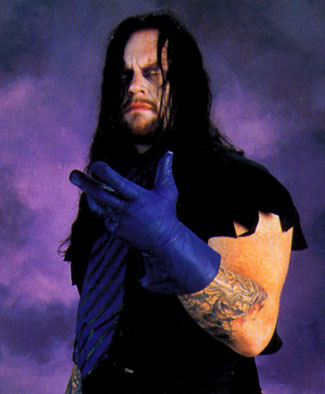 "You Will Rest In Peace!!!!"-The Undertaker
The Undertaker (Real Name: Mark Calaway) As He Appears In The Assault Of Army Of Roses Storyline He Earned The Respect Of Everyone Around Him Except For Hamaveck He Made Sure He Will Rest In Peace By Giving Him A Tombstone Piledriver Which Sent Shock In Mobius Darka Marapore Was Angry That The Undertaker Had Shown Up On Mobius To Seek Revenge For Being Locked Up In A Cage He Wears His 1994 Casual Attire And In-Ring Attire It Is Discovered That Undertaker Had Tattoos All Over Both Of His Arms His Nickname Is "Deadman"
Bio
Name: The Undertaker
Real Name: Mark William Calaway
Born: March 24, 1965 (28)
Birthplace: Houston, Texas
Billed From: Death Valley, California (Undertaker)
Height: 6"10
Weight: 328
Political Alignment Information
Alignment: Good
Affiliated With: None
Friends: Laina Paramore And Others
Rivals: Darka Marapore, Hamaveck The Hedgehog, Alfred The Fox, Dr. Eggman, The Army Of Roses, Corrupted Amy Rose, Corrupted Blaze The Cat
Allies: The Freedom Fighters
Manager: Paul Bearer (Deceased 1954-2013), Unknown
Finisher: Tombstone Piledriver
Signature: Chokeslam
The Undertaker's Backstory
Some Call Him By His Real Name Mark Calaway Everyone Knows Him As The Undertaker His Mysterious Presence Intimidates Every Villain Including Darka Marapore, Hamaveck The Hedgehog, Alfred The Fox, Dr. Eggman, The Army Of Roses, Corrupted Amy Rose And Corrupted Blaze The Cat Even Without The Power Of The Urn The Undertaker Manages To Get An Another Source Of Power Which Is The Light Since Entering The WWF In 1990 The Undertaker Leaves An Path Of Destruction Behind This Character Portrayed By Mark Calaway Has Shown Why He Should Be Feared Funny Thing Is Undertaker's Imposter Undertaker (Portrayed By: Laina Paramore) Was A Better Undertaker Than He Was Ironically Laina Had Undertaker's Finisher And Signature Moves Worn Undertaker's 1994 Casual Attire And In-Ring Attire She Would Take Over When Undertaker Was Injured His Worse Enemy Is Of Course Delilah The Cat Who Loves To Hurt Anyone Problem Was The Undertaker Isn't Anyone He Is A Bonafide WWF Superstar Who Has Shown The Propensity To Tombstone Anyone
Legacy
The Undertaker Remains One Of The Best Characters To Exist Simply Because Of His Intimidation Factor Which Was A 10 Everyone Was Afraid Of Him
Appearances In Fanfics
The Assault On Army Of Roses (Fanfic A Movie Was Released)
Ad blocker interference detected!
Wikia is a free-to-use site that makes money from advertising. We have a modified experience for viewers using ad blockers

Wikia is not accessible if you've made further modifications. Remove the custom ad blocker rule(s) and the page will load as expected.