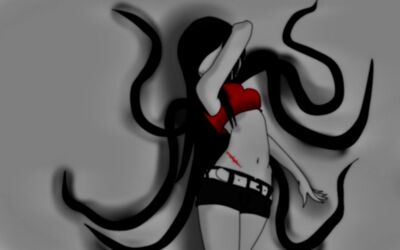 Slender Girl Who's Real Name Is Allison Franklin She Has Eyes And Mouth Not Like Slenderman's Where They Are Fangs Instead She Has Normal Teeth Like Jonathan's She Wore An Red Tanktop Which Showed Her Stomach And Wore Black Shorts With An Grey Belt And Black Sandals
Existence And Being Spotted
Slender Girl Was Seen In The Forest With Her Extremely Long Black Hair In Which She Immediately Grabbed Jonathan With Her Long Hair And Cuddled Him With Her Love She Then Professes Her Love For Him And Declares That They're Be Together Forever And Ever.
Background Information And Formation Of Her Army
During Slenderman's Murdering Spree Slender Girl Has Secretly Begun Forming An Army Of Her Own Who Are Consisted Of Females Such As She Hulk, Red Hulk, Older She Hulk As Enforcers Slender Girl Jr, Young Slender Girl, Young Slender Girl Jr As The High Ranking Officials Older Slender Girl, Older Slender Girl Jr And Older Young Slender Girl As The Lientients And Jonathan As The Main Warrior And Slender Girl As The Leader They Located Their Base In Downtown Station Square Where Jonathan's Historic Battles Have Took Place As Part Of His Initiation Jonathan Had To Change His Gender And Sex And Was Named Rachael Franklin Who Looked Like Her Identical Twin Sister Allison Franklin Who Is Slender Girl Now They Had An Strong Group That Can Be Feared
The Fall And Death Of Slenderman
The Army Found Slenderman Attacking Innocent Civilians Of Station Square Slender Girl Uses Her Black Hair To Grab Slenderman And Then Tossed Him Into The Fire Which Burns Him Up Causing Him To Explode
Movies
The Slender Girl Movie
Ad blocker interference detected!
Wikia is a free-to-use site that makes money from advertising. We have a modified experience for viewers using ad blockers

Wikia is not accessible if you've made further modifications. Remove the custom ad blocker rule(s) and the page will load as expected.