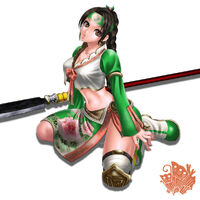 Seong Mi-na is a character from Soulcalibur series that is the love interest of Bakixas, the lead character of Soul Chronicles: Tale of the Spiritual Samurai. She is currently the longest lasting member of Bakixas' crew.
Bio
Age: 23
Gender: Female
Ethnicity/Nationality: White/Korean
Sexual Orientation: Hetero
Handedness: Both
Skin: White
Birthplace: Jirisan, Korea
Birthdate: November 3, 1568
Blood type: A
Weapon: Inherited Zanbatō
Weapon name: Scarlet Thunder
Fighting Style: Seong Style Longsword + Ling-Sheng Su Style Rod
Family:

Father: Seong Han-myeong
Mother: Name is unknown
Brother: Name is unknown
Lover: Bakixas
Info
Mi-na was the first character that Bakixas met when he returned to the 16th century and she started to get a crush on him that started to grow bigger over time.

In Chapter 16, she confessed her love to him with a kiss soon after the defeat of Naienkou.
Weapon
Scarlet Thunder

An heirloom of the Seong family passed down through many generations. Seong Mi-na first played with this long blade as a toddler, and despite its weight has always been able to wield it easily. Since then it has become her weapon of choice and accompanies her on every journey.
Extra Uniforms
Halloween Town Cloths

black gothic cleavage-enhancing gown, hi-heel boots, black thong and black fishnet stockings.
Trivia
Mi-na's Halloween Town clothes are based off of Elvira.
Mi-na was the longest lasting member of Bakixas' crew to stay around with him.
Ad blocker interference detected!
Wikia is a free-to-use site that makes money from advertising. We have a modified experience for viewers using ad blockers

Wikia is not accessible if you've made further modifications. Remove the custom ad blocker rule(s) and the page will load as expected.