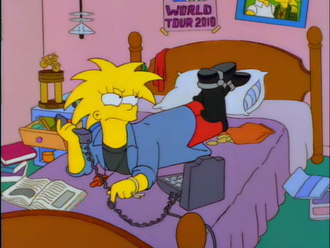 Maggie Simpson As She Appeared In The WWF She Has Performed Under Numerous Popular Gimmicks One Of Them Was "Maggie The Undertaker" Who Had The Exact Same Height And Weight Of The Undertaker (Jonathan) And Had His Moves As Well She Had Long Spiked Hair But She Wore An Black Tanktop Which Showed Her Yellow Stomach She Had Red Jeans And She Wore Black High Heels She Is Very Funny And Is Very Popular With The Media And Interviewers Ironically She Had Tattoos All Over Her Arms Maggie Shortened Her Nickname From Maggie The Undertaker To Just Maggie Simpson (Who Had Undertaker's Abilities And Finisher) She Often Aided Jonathan In His Matches She Appeared On Numerous WWF Magazines With The Undertaker In A 1999 Issue Jonathan For Some Reason Was Forced Into Wearing His "Deadman" Attire (1994-96) By Stephanie McMahon Which Proved To Be The Turning Point
WCW Career (1984-1993)
Maggie Debuted In WCW In 1984 As Patricia Jacobs (She Looked Exactly Like Maggie In Appearance And Clothing) Patricia Won 10 Championships While In WCW Her First Theme Was "The Ultimate Destroyer"
WWF Career And Debut And Woman's Championship Title Run (1993-Present)
Maggie Who Had Just Signed Her Contract With The WWF In 1993 Appearing On The Very First Episode Of WWF Raw Alongside The Undertaker (Jonathan) On The Match Card Two Matches Stand Out The Undertaker Vs. Razor Ramon And Maggie Simpson Vs. Bull Nakano Ironically On That Same Night The Undertaker Before His Match Against Razor Ramon (Scott Hall) He Was Spotted At The Tattoo Parlor In Las Vegas And Then Was Spotted At An Resteraunt Nearby Nevada, Los Vegas Eating Pizza With His Pal Maggie Simpson Jonathan Would Go On To Beat Razor Ramon She Obtained 45 WWF Women's Championships Overall Her First WWF Theme Was "Funeral March"
The Monday Night Wars (1995-2000)
When WCW Monday Nitro Debuted In 1995 In The Same Timeslot As WWF Monday Night Raw All Of WWF's Top Superstars Would Defect To WCW In 1996 Except For Two (The Undertaker And Maggie Simpson) So Vince McMahon Had To Step His Game Up And So He Had The Undertaker Screw Bret Hart Out Of The Title Which Started The Attitude Era Jonathan's 1995 Theme Was Graveyard Symphony
Engineering The Attitude Era (1997-2001)
Maggie Got Herself Into An Fight With Chyna Which Led To The Start Of Attitude Era And So Here Comes The Undertaker (Jonathan) He Elbowed Chyna In The Face And Then Gave Her An Tombstone Piledriver In The Storylines Maggie, Lisa, Zia And Rachael Simpson Started An Feud Against DX With The Help From The Undertaker And Chyna
Fanfics
Maggie Simpson: The WWF Legend
Survivor Series (2001)
Maggie Appeared At SS (2001) In Her Army Tanktop Showing Her Yellow Boobs And Stomach Army Pants And Army Boots This Was Maggie's 2nd Attire She Joined The Undertaker (Jonathan) For The Survival Goldberg Suggested That Even If The WWF Wins WCW Would Be Given An Second Chance And ECW Would Still Exist Which Vince McMahon Happily Agreed With Goldberg On That Assessment The Survivor Series Kicked Off With Triple H, Jonathan, Stone Cold Steve Austin, Kurt Angle, Undertaker, The Rock, Chris Jericho And Kane Taking On The Alliance In A 10 Man Elimination Tag Match The WWF's Best Would Be Injured Leaving Jonathan And Maggie To Fight The Alliance In Which They Both Beat Them After Jonathan Performed His Finisher Tombstone Piledriver And Pinned Them Both But Suddenly Jonathan Looked Up And Saw An Mysterious Female Figure Towering Over Him Smiling In Gradititude And Thanking Him For Saving Her From The Alliance Jonathan Realizes That She Is Lynn Simpson An Big Strong 6"11 328 Ib Girl That Can Make The Difference In The World Lynn Takes Jonathan Into The Makeup Shop Which Ends Up Turning Him Into A She As "Michelle Simpson" Debuted In 2001 As An Member Of The Simpsons Stable An Group Of Talented Daughters That Can Kick Some Ass
WWF Draft (2002)
After The World Wrestling Federation Won It's Case To Keep It's Name Vince McMahon Decided To Hold The 2002 WWF Draft Which Actually Mark Calaway (Undertaker) Partook In The Participating Parties Were WWF, WCW And ECW (Smackdown, Raw Is War, Extreme Championship Wrestling And World Championship Wrestling) Vince McMahon And Ric Flair Acted As General Managers Of Smackdown And Raw Respectively This Draft Was Star Studded It Had The Female Wrestlers Including Maggie Simpson, Rachael Simpson, Zia Simpson And Lisa Simpson In The Draft And Jonathan (The Undertaker) Was Eligable For The Draft Other Females Included Lita, Torrie Wilson, Stacy Keibler, Roseanna Phelps, Anastacia Brown And Trish Stratus Ric Flair Shocked Vince By Picking Jonathan First And Then Picked The Female Wrestlers Including The Simpson Girls Raw Was Stacked Now Led By The Undertaker (Jonathan) Both Jonathan And Roseanna Simpson Were Part Of The Attitude Era (1997-2001) Roseanna Kissed Jonathan And Gave Him Hugs And Often Acted As His Buddy/Pal Anastacia Simpson Was Actually An Cute Young Attractive Girl That Can Really Pack An Punch
Saving The WWF From Going PG (2008)
The Attitude Era Was Back In Full Swing As The Undertaker (Jonathan) Destroyed D-Generation X One By One Including Chyna But Spared Tori Tori Graciously Thanked Jonathan For Sparing Her It Marked The Return Of Bret "The Hitman" Hart And The Hart Foundation (Owen Hart, Brian Pillman, British Bulldog And Jim Neidhart) Both Bret And Jonathan Suddenly Realized That The Attitude Era Was Drawing More Fans Into The Raw Is War Arena But Linda McMahon Decided To Run For Vice President Candidacy Vince McMahon Asked His WWF Superstars To Foil Linda's Plans Jonathan Ended Up Foiling Them
Attitude Era Vs. PG Era (2009-10)
All Of The Sudden The Attitude Era Superstars Were Emboiled In A Battle For Supremacy Against The PG Superstars Of The WWE It Was WWF Vs. WWE They Settled This At Survivor Series (2009) It Was Team WWF Vs. Team WWE Bret Hart, Jonathan, Jim Neidhart, Owen Hart, Chris Jericho, Undertaker And Kane Squared Off Against John Cena, CM Punk, Evan Bourne, Kofi Kingston And Others
Michelle Simpson's Team
Michelle Formed An Powerful Team Of Simpson Girls Rallying Around Their Leader Michelle And
Ad blocker interference detected!
Wikia is a free-to-use site that makes money from advertising. We have a modified experience for viewers using ad blockers

Wikia is not accessible if you've made further modifications. Remove the custom ad blocker rule(s) and the page will load as expected.