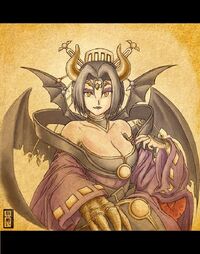 Lilithmon
is a chatacter from Digimon that is a lead villian in
Digital Hyuga Chronicles
made by
Ryuu the Ancient Keyblade Master
.
Bio
Age: Unknown
Gender: Female
Ethnicity/Nationality: White/Unknown
Sexual Orientation: Hetero
Handedness: Right
Skin: Light
Birthplace: Unknown
Birthdate: Unknown
Blood Type: Unknown
Weapon: None
Weapon Name: None
Fighting Style: Powers of Darkness
Family:
Profile
Lilithmon first appeared in Chapter 1 along with Naitojemu that revealed Naitojemu was her son.

In Chapter 2, Lilithmon summoned Skull Magnamon to attack Techo City that was to test Hanabi and Leomon.

In Chapter 7, Lilithmon appeared infront of Naitojemu when he returned with the Digiscroll of Desire that he stolen from Shogun Gekomon.
Other Forms
Extra Data
Ad blocker interference detected!
Wikia is a free-to-use site that makes money from advertising. We have a modified experience for viewers using ad blockers

Wikia is not accessible if you've made further modifications. Remove the custom ad blocker rule(s) and the page will load as expected.