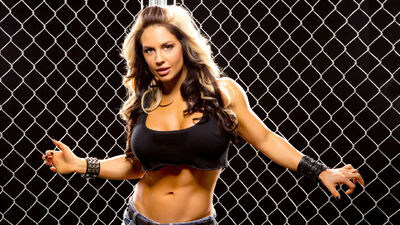 Celeste Beryl Bonin (October 7, 1986) Better Known By Her Ring Name Kaitlyn Kaitlyn Wore An Black Tanktop Which Showed Her Light Tan Stomach Kaitlyn Wore Light Blue Jeans With Her Belt On It She Worn Black Shoes She Worn Silver Wristband On Her Left Hand She Worn An Black Wristband On Her Right Hand She Had Long Dark Brown/Blonde Hair Hot Pink Lips And Brown Eyes She Had Black Fingernails Her Sister Is Jessica Beryl Bonin Jr. Her Other Sister Is Allison Beryl Bonin Jr.
Early Life
Celeste Beryl Bonin Was Born October 7, 1986 In Seattle Washington She Attended Seattle High School (Bulldogs) In 1987 She Was An Excellent Student As She Was A 4.0 GPA Student And Straight A Student Kaitlyn Was An Very Great Softball Player In Her 3 Years (1987,1988,1989) Playing Softball She Compiled An 116-47 Career Record With 2438 Strikeouts To Her Name While Kaitlyn Isn't Wrestling You Can Find Kaitlyn On The Softball Diamond With Her Team The Seattle Long Bombers
WWF Career (1993-Present)
She Debuted In The WWF In 1993 Under Her Name Kaitlyn Joining Her Was Her Younger Sister Jessica Beryl Bonin Jr. Who Performed Under Her Name Jessica Bonin Jr. She Like Kaitlyn Also Had The Same Features As Kaitlyn They Formed An Very Successful Tag Team In The Dynamic Duo They Were Known For Their High Flying Moves And Acrobatics But They Also Had Great Submission Moves As Well They Appeared On The 1993 WWF Magazine Cover Together Along Came Allison Beryl Bonin Jr. They Later Became Partners In The Business Industry
Movies
Kaitlyn: The Journey
Ad blocker interference detected!
Wikia is a free-to-use site that makes money from advertising. We have a modified experience for viewers using ad blockers

Wikia is not accessible if you've made further modifications. Remove the custom ad blocker rule(s) and the page will load as expected.