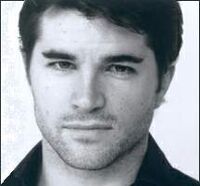 John Mathis is a former U.S. Navy SEAL. His personal beliefs and knowledge gave him the ability to join the Department of Defense's PCI program. He is Alexis' first agent partner.
Character Stats
Name: John R. Mathis
Age: 30
Date of Birth: December 10, 1979
Species/Gender: Human (Male)
Former Job: U.S. Navy SEAL
Current Job: Department of Defense Special Forces Agent
Nationality: Caucasian
Appears: Season One
Kill Stats
Humans: 199
Slayers: 0
Vampires: 15
Spiritual Demons: 0
Biological Demons: 3
Gods/gods/Devils: 0
Monsters: 0
Extraterrestrials: 0
Ad blocker interference detected!
Wikia is a free-to-use site that makes money from advertising. We have a modified experience for viewers using ad blockers

Wikia is not accessible if you've made further modifications. Remove the custom ad blocker rule(s) and the page will load as expected.