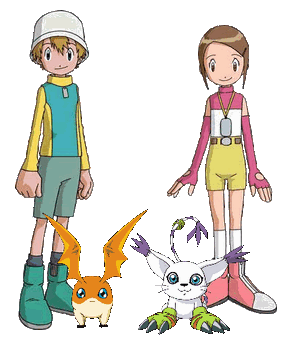 Digimon Adventure 03 is the continuation of Digimon Adventure saga, taking place 2 months after Digimon Adventure 02: Revenge of Diaboromon. It is often called "Digimon Adventure: The return of Apocalymon" there are many new things in the show.

It is the year 2004. More evil Digimon have a plan to destroy the Digital World. A new digidestend joins the team of the 6 02 Digidestend.
Characters
Main characters/Heroes
Hikaru Ryuuji
Masuken Kana
Ryudamon
Kiyoshi
???????
Supporting characters
Davis Motomiya
Veemon
Yolei Inoue
Hawkmon
Ken Ichijouji
Wormmon
Tai Kamiya
Agumon
Matt Ishida
Gabumon
Sora Takenouchi
Biyomon
Izzy Izumi
Tentomon
Mimi Tachikawa
Palmon
Joe Kido
Gomamon
Cody Hida
Armardillomon
Villains
Pirates
References
Ad blocker interference detected!
Wikia is a free-to-use site that makes money from advertising. We have a modified experience for viewers using ad blockers

Wikia is not accessible if you've made further modifications. Remove the custom ad blocker rule(s) and the page will load as expected.