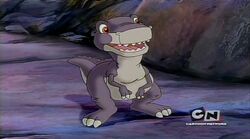 In Total Drama Before Time, his partner is Beth. He is also good friends with Gwen, Ben, Trent, Mac, Ruby, Spike, Cera, Ali, Littlefoot, Petrie, Tails, Cosmo, Courtney, Ash, Ducky, Cody, Izzy, Leshawna, and Noah. The people who dispise him are Topsy, Paul, and Heather. Topsy did trick Chomper into quicksand to make sure he doesn't know about Team Galactic's plan of stealing the Lustrious Orb, even though he didn't want to do it, Paul thinks Chomper is pathetic, and Heather steals his stuff and kills his food. Tyler is also known to be scared of Chomper, because Chomper's bones are similar to that of a chicken's, but in later episodes Tyler seems to get along with Chomper. Ursula angered Chomper and Littlefoot by stating that they will have fight each other soon in a survival of the fittest. He is also good at electric guitar. He became Littlefoot's step-brother in A New Enemy Approaches: Part 2. This is also the episode when he drags Brock once he falls in love(which is a running gag). While that happens, Ash and Dawn will act as if they were slowly tilting. Chomper gets irritated when Brock falls in love. Before he was accepted in the Great Valley in the Land Before Time TV series, he heard about Aaron, Alexis Rhodes, and Seto Kaiba. In A New Ally Is A Fast Biter?, his first duel was against Weevil Underwood. He uses a deck called "Dragon's Luck", which was given to him by Buttercup. He even knows how to speak French, German, and Japanese, which was seen in Right Off The Chain. In Night Circle Darkens, he revealed to be 9 years old. He is both a duelist and a Pokemon trainer. He is also known to be the first dinosaur to meet a member of the Elite Four, which was Lucian. This was during Izzy Or Isn't She. In that episode, he was taught how to catch Pokemon. His rivals are Hyp, Paul, and Barry. He is voiced by Max Burkholder.
Pokemon
Cards
Pot Of Greed
Luster Dragon
Baby Dragon
Monster Reborn
Thousand Dragon
Sand Gambler
Negate Attack
Winged Dragon Guardian Of The Fortress #1
Two Headed King Rex
Time Wizard
Light And Darkness Dragon
Polymerization
United We Stand
Trap Hole
Thunder Dragon
Uraby
Armed Dragon Lv3
Armed Dragon Lv5
Armed Dragon Lv7
Stamping Destruction
Level Up
Graceful Dice
Winged Dragon Guardian Of The Fortress #2
Black Pendent
Blue Eyes White Dragon
Red Eyes Black Dragon
Gift Of The Mystical Elf
Giant Trunade
Goblin Attack Force
Harpie Lady's Feather Duster
Trap Hole
Horus The Black Flame Dragon Lv 4
Luster Dragon #2
Block Attack
Lesser Dragon
---
---
Ad blocker interference detected!
Wikia is a free-to-use site that makes money from advertising. We have a modified experience for viewers using ad blockers

Wikia is not accessible if you've made further modifications. Remove the custom ad blocker rule(s) and the page will load as expected.