"I promise to capture the beast alive! And I will not come back until I do. Can your ideas change the world?"
"You came in that?"
"You know, Bernard, these people who come here, they all tell pretty good stories. A surveyor making a map...a botanist cataloging plants...an old man taking his house to Paradise Falls...now that's the best one yet. I can't wait to hear how it ends."
—Carlos confronting Bernard upon finding out he met the Guardians of Brendam in the final battle
"Where's your home now, Bernard?!? (Announcer: Ten seconds to liftoff. Nine, eight...) Guardians of Brendam, the time has come (ZigZag: [Outside] No!) (Toto: [Jumps off his chair] Yes!) (Announcer: six, five) for you (ZigZag: [Outside] No!) (Toto: Yes!) (Announcer: ...three, two...) to fry. (ZigZag: [Outside] No-o-o!) (Toto: [Wide-eyed] Yes!) (Announcer: one.)"
—Carlos' final statement moments before Bernard starts to play Sabotage
"What a bunch of A-holes."
—Carlos' last words during his defeat in Brendam 2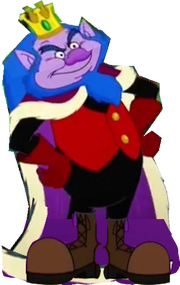 Carlos E. Carlos is the tertiary antagonist of
Brendam
, the main antagonist of
Brendam 2
, a recurring antagonist in
the animated series
 and a supporting character in
Brendam: The Enchantress Awakens
. He and his reflection are voiced by Taye Diggs and speak like Capper the Cat form My Little Pony: The Movie. He is the boss of
Smek the Turtle
and the leader of the
Cards
.
Full name: Carlos E. Carlos
Other names: Carlos, Barlos Carlos (by his reflection)
Goal: To exile Bernard (succeeded), To mess with Bernard and the Guardians of Brendam (failed) (2nd film)
Inspiration: Kai from Kung Fu Panda 3, Francis E. Francis from The Boss Baby
Appearence: Giant troll, light purple skin, dark purple hair, red gloves, black robe, red cape
Personality: Power-hungry, murderous, dark, ancient, devious, sly, cold-hearted, willful. malicious, sarcastic, sharp, backstabbing, selfish, mischievious, diabolical, cruel, funny
Occupation: Bernard's arch-nemesis
Fate: Explodes while Bernard and the Guardians of Brendam play Sabotage to kill him, Prince John and his henchmen
Quote: "You know, Bernard, these people who come here, they all tell pretty good stories. A surveyor making a map...a botanist cataloging plants...an old man taking his house to Paradise Falls...now that's the best one yet. I can't wait to hear how it ends."
Weapons: Darkhouse
Gallery
Trivia
Carlos is similar to Francis E. Francis from "The Boss Baby"

Both have their first names as their last names.
Both try to hide there villainy.
Both have former diabolical henchmen (Eugene Francis to Francis, Prince John and Smek the Turtle to Carlos.)
Both are the former CEO of a company.
Both trap the protagonists (Francis traps Boss Baby and Tim Templeton in Tim's house, with Eugene; Carlos traps Bernard and the Guardians of Brendam in his lair.)
Both have armies (Puppies and Cards.)
Ad blocker interference detected!
Wikia is a free-to-use site that makes money from advertising. We have a modified experience for viewers using ad blockers

Wikia is not accessible if you've made further modifications. Remove the custom ad blocker rule(s) and the page will load as expected.