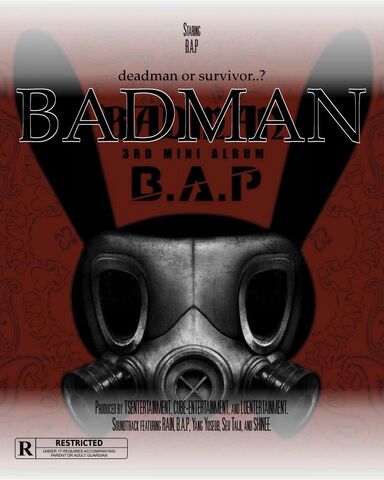 BADMAN is a movie produced by TSENTERTAINMENT and other labels. B.A.P is staring the movie, along with various kpop artists, actors, and actresses.
Plot
The movie takes place in Seoul, South Korea. SWAT has been called to deal with various riots about the Police killing dozens of innocent people. Bang Yongguk; an unemployed gambler, is among the rioters. He yells about his dead friend, which gets the attention of many rioters and a news channel. Yongguk called the Police "sick people" and "killer cops", which caused even more people to riot in Seoul. Then, a SWAT member was killed, and everyone attacked the Police. Yongguk ran for it, and headed back home. He then noticed a young boy named "Zelo", who was sitting up against the wall with a bloody nose. Yongguk picked him up, and carried him back to his house.
Ad blocker interference detected!
Wikia is a free-to-use site that makes money from advertising. We have a modified experience for viewers using ad blockers

Wikia is not accessible if you've made further modifications. Remove the custom ad blocker rule(s) and the page will load as expected.